Etihad Airways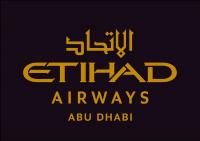 Street: Culliganlaan 2D box 3
Postcode: 1831
City: Diegem
Country: Belgium
Phone: +32 2 200 88 80
Fax: +32 2 725 81 77
Contact Person: Ann Ramaekers (General Manager Belgium and Luxembourg)
Email: aramaekers@etihad.ae
Services

Etihad Airways is the national airline of the United Arab Emirates. From Brussels we fly 8 times a week to our home Abu Dhabi, where you can connect smoothly to over 60 destinations in the Gulf, Asia, Africa and Australia.
On board, we offer an excellent service in all travel classes. Premium guests can relax in full flatbed seats and dine as they like, when they like. At select destinations, our First and Business Class guests* receive a door-to-door chauffeur service.
For seven consecutive years, Etihad Airways has been awarded the title of "World's Leading Airline" (World Travel Awards 2009-2015).
Etihad Airways has rewarding frequent flyer programs for individual travelers (Etihad Guest) and for companies (BusinessConnect).
Flying Reimagined, by Etihad Airways
*Not available for flight segments booked at Business Breaking Deal fare.